Botri Canyon, Botri Ravine (Orrido di Botri)
DESCRIPTION
The Ravine of Botri is a canyon, rugged and imposing limestone gorge, with steep walls carved by deep cold waters of the river Rio Pelago. The canyon is part of a landscape characterized by Appennine cave environments and extensive beech forests, dominated by the peaks of Mount Rondinaio and the Tre Potenze of almost 2000 meters in height.
The Ravine of Botri is one of the most interesting natural environments of the Tuscan Apennines.
The waters of the Mariana arriving from the Abetone and the Cucernole descending from Mount Rondinaio have modeled.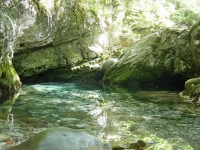 Much of the course of the Mariana indeed coincides with the bottom of the canyon encased between two walls of rock, high hundreds of meters, and almost vertical in some places a few meters near each other.
The Ravine of Botri is protected by a reserve established in 1971 to protect an environment that is still home to the
golden eagle
, symbol of the Ravine, and a fair amount of rare flower species.
HOW TO REACH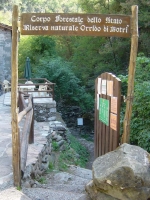 The reserve is reached from Lucca with highway n. 12 of the Brennero, take up to Fornoli near Bagni di Lucca; Tereglio to turn, take the provincial road n. 56th
Follow the directions to Ponte a Gaio - Ravine of Botri.
The village of Ponte a Gaio is also reachable via Montefegatesi, from Bagni di Lucca, or the Scesta for those traveling on the SS Brenner in the south.
Tours start at Ponte a Gaio, the only access to the gorge, where the reception center of CFS and the box office.
RESTAURANT, WHERE TO EAT
The "Il Nido dell'Aquila" (The Eagle's Nest) bar, restaurant and pizzeria is located right in the heart of the natural reserve, Orrido di Botri, just two steps from the sole entrance of one of the few canyons present in Italy.
The "Il Nido dell'Aquila" (The Eagle's Nest) bar, restaurant and pizzeria
.
CONTACTS
Reception and Refreshment Center "Il nido dell'Aquila"; phone: +390583800022.
Service Guides for "Orrido di Botri"; phone: +390583800020.