The Park of the Argegna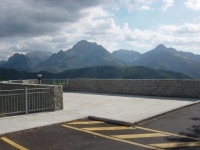 The Park of the Argegna extends over a plateau (1034 m). The extreme north-eastern boundary of the province of Lucca, the border between the valley of the Garfagnana and the valley of Lunigiana.
The beautiful dominant position and the wide expanses of meadows, interspersed with forests of beech and coniferous make this a typical Apennines area unique.
The Sanctuary of the Madonna della Guardia is the most popular place in the park; From here you can submit in the beautiful surrounding woods to make wonderful Garfagnana Trekking on foot or by bicycle. On the top of Mount Argegna, a short walk from the Sanctuary, overlooking the Bell Votive of the Alpines, monument to the last Sunday in June attracts many Alpines local.
On the last Sunday of August, however, the neighboring fields are literally invaded by hundreds of tourists for the traditional feast of the Argegna.
The flora of the park explodes with blooms in spring crocuses and daffodils, which are replaced by wild orchids and red lilies with the advance of the season.
The fauna, which suffers from proximity to the Natural Park, is instead characterized by the presence of numerous deer, fallow deer, mouflon, wild boar and, lately, some wolves.
As for the birds, it is not difficult to see interesting species such as buzzards, kestrels and hawks flying over the skies of the park in search of their small prey.
The municipalities affected by the park are those of Giuncugnano and Minucciano and are characterized by the presence of many settlements that still preserve intact their characteristics and traditions; typical products are the famed wild mushrooms, chestnut flour and berries, essential ingredients to prepare dishes from this area.
For visitors there are many marked hiking trails lead up to the ridges of the Apennines or until they reach the side of the Apuan Pisanino Mount (1947 m.).
USEFUL NUMBERS
Minicipality of Giuncugnano tel. 0583 615066
Minicipality of Minucciano tel. 0583 610391
Comunit� Montana della Garfagnana tel. 0583 644911
Camping Argegna tel. 0583 611182