Old road of the salt and iron, The road salt, La Via del Sale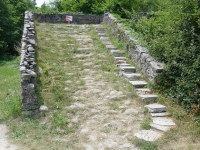 Carriage road that served as a link to Modena.
Also used for the transport of salt, so this was called.
Along its route the road reserve are still some structures of the past as the stone bridge in the photos on the side.
This is a route from Piazza al Serchio reaches Gramolazzo then advancing in the heart of the Apuan Alps retracing paths pastoral and paths used by smugglers sometimes, for the transport of salt in high Serchio Valley.
The road crosses areas of great interest, both in the presence of dams (Lake Gramolazzo) than for environmental and landscape features (group of Mount Tambura, Cavallo, Pisanino and Pizzo d'Uccello) also connects to the network hiking mountain CAI.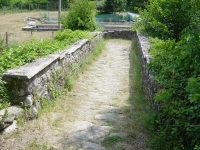 From Piazza al Serchio the path rises along the river to the Acqua Bianca (White Water) to reach the medieval villages of niches, and Castagnola Agliano, the latters overlooking the lake Gramolazzo.
On a hill near the lake stands the bulk of the Old Church, abandoned building eighteenth and only recently the subject of a recovery.
A Gorfigliano in the new church of San Bartolomeo is kept sacred, ancient, and a wooden statue depicting a medieval holy bishop.
The route continues along the stream by sending the Acqua Bianca (White Water) in the heart of the Apuan Alps in a mountain of great interest to the passage of Focolaccia, before falling back on the side of Massa.
An interesting digression on this journey is the path parallel to the glacial valley of Orto di Donna, to the mouth of Cardeto, towards the Valley Hotel, formerly the territory of the province of Massa.
The area is characterized by the extraction of marble with the creation of striking artificial fronts due to excavation and ravaneti, landfill of waste material.
As a result of intense mining activity and prolonged in time, the Apuan marble basins are characterized by huge volumes of debris waste of cultivation, the so-called "ravaneti", which are discharged along the slopes adjacent to areas of the quarry and that are now a typical element of the landscape of the Apuan Alps.