Il Teatro Alfieri
Description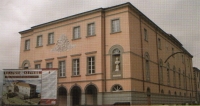 The theater "Vittorio Alfieri" Castelnuovo is the Valley's most important nineteenth-century theater Serchio.
With its 510 seats is the second stage of the province, after the Teatro del Giglio di Lucca.
It was inaugurated on the evening of August 22, 1860, with the melodrama "La straniera" Vincenzo Bellini.
His home was built by a group of local notables among which Count Giovanni Carli and Antonio Vittoni, singular figures of businessmen usually within modest entrepreneurial horizons of Garfagnana action major economic and social development.
Count Charli himself designed the structure probably inspired decorative elements in the Giglio Theatre of Lucca. The building features a large atrium, a horseshoe pit, three rows of 17 boxes, plus gallery (currently not open to the public).
The paintings were made by David Franks of Castelnuovo.
Intact after World War II, was turned into a movie theater until its closing in 1990.
On September 9, 2006, with a symphony concert of the "Tuscan Regional Orchestra", the theater was reopened after restoration.
Teatro Alfieri - Program