Puglianella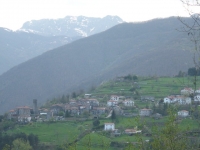 Puglianella is located between the drum and the pen of Sumbra.
The ancient settlement of Puglianello of medieval origin is mentioned in a document of 795 which is among the goods offered to the church of Vitoio.
Current hamlet of Camporgiano, was already part of the same name Vicaria in the past, during the period of Lucca and during the Estense period as the land of the Duchy of Modena.
The sixteenth-century parish church dedicated to Maria Assunta (Church of Santa Maria Assunta), is of recent reconstruction but preserves a precious wooden statue (polychrome wood) of the fourteenth century, depicting the Madonna and Child, attributed to the sculptor Nino Pisano (seventh decade of the XIV century).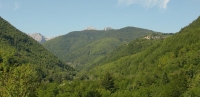 Near the bell tower you access to a walled village with houses of noble origin, which overlooks a Apuan natural suggestive landscape. It also has a wooden sculpture of 1370 attributed to Andrea Pisano.
In front of the mountain where the village stands, in the Edron valley, are often seen in flight, the buzzards, in italian "poiane".
Their nest is right in the cliff, below the village, towards the village Poggio.
It is thought, by this reason, the name given to the village.