Tuscany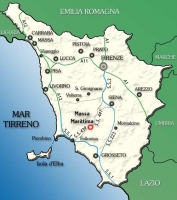 Tuscany is one of the most beautiful regions of Italy.
Known worldwide for its artistic heritage, history, culture result of the time of the Etruscan civilization and the Renaissance; diversified's beautiful landscapes from the mountains to the Tyrrhenian Sea.
Tuscany is widely regarded as the true birthplace of the Italian Renaissance, and has hosted some of the most influential people in the history of the arts and science, like Petrarch, Dante, Botticelli, Michelangelo, Leonardo da Vinci, Galileo Galilei, Amerigo Vespucci and Puccini.
Its unique culinary tradition, fine wines, the most famous of which are Chianti, Vino Nobile di Montepulciano Morellino di Scansano and Brunello di Montalcino crown its uniqueness.
Toscana - Tourist attractions